Mortgage Loans
Your home is our top priority. Apply online, in minutes, with Loan Valet®
First Federal Savings Bank Bank is a leader in home loan financing. We offer a wide variety of programs to meet the needs of every homeowner.
Our experienced loan officers are ready to assist you, and our Loan Valet® website offers top of industry technology to make the home loan process quick and easy.
Home Purchase
Embrace Homeownership with First Federal Savings Bank.
We offer:
Conventional Mortgage Loans

Fixed- Rate Loans
Adjustable- Rate Loans

Government Mortgage Loans
Jumbo Mortgage Loans

Fixed-Rate Loans
Adjustable-Rate Loans

First Time Home Buyer Grants and Programs


Get Started on your home purchase
Home Refinance
We offer refinancing solutions to help meet your financial goals.
Refinancing your mortgage could help you:
Shorten your term
Lower your interest rate
Consolidate debt
Borrow additional funds (cash out)
Get started on your home refinance
Home Building
Bring your vision to life with First Federal Savings Bank.
We offer:
Rate lock - at application for the life of your loan
Single close - pay only one set of closing costs
Automatic conversion to permanent financing
Interest only payments during the construction phase
Visit our Construction Lending Guide
Get started on building your home
Have questions about the home loan process before you get started?
Request a Consultation
Home Equity Line of Credit (HELOC)
Enjoy the flexibility of a home equity line of credit so you can borrow what you need, when you need it.
Easy access to funds

HELOC Access Card
Simply write a check

Low monthly payments
Flexible terms
Funds can be used/reused like to a credit card
Variable interest rate
Fixed Home Equity Loan
Do you have a specific need in mind? Lock in the benefits of a fixed rate and payment.
Low fixed interest rate for the life of the loan
Fixed payment amount for a set repayment term
Fixed repayment terms with various repayment periods
Get started on your Fixed Home Equity Loan
FIND OUT HOW MUCH YOU CAN AFFORD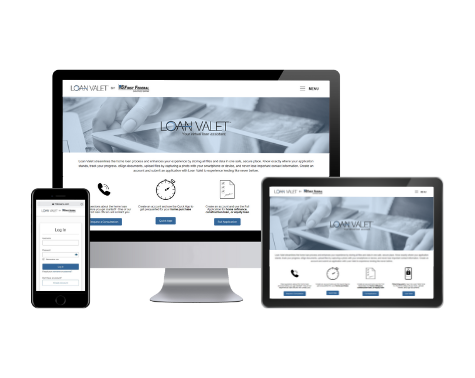 Meet your new virtual loan assistant! By applying for your next home loan through Loan Valet, you can manage your application when you want, where you want and how you want. New technology. Better experience.
All loans are subject to credit and underwriting approval. Certain fees, restrictions and property limitations may apply. Loan Valet is a registered trademark of First Federal Savings Bank